To enable your personal Facebook account for monetization, follow these simple steps we are going to walk you through on this page. You may have noticed that some of your FACEBOOK Friends have been turning their Profiles into Pages. It's called Facebook Professional Mode.
Facebook Professional mode can help you build a public following and grow a global community. In professional mode, you have access to a bundle of professional tools, enhanced safety features, and monetization products (if you're eligible) that can help you build your professional presence from your profile.
Previously, these tools and features were available only on Pages, which meant creators had to manage their public Page separate from their profiles.
When you turn on Professional mode, you will have the ability to see your AUDIENCE INSIGHT! Audience Insight is a Professional Dashboard where you can see the Analytics of your Content! This will help you to better understand your Audience!
How to Turn On Facebook Professional Mode with Fb App
To turn on your Facebook professional profile mode, follow the simple steps below.
Go to your shortcuts
Switch to professional mode, which will unlock the professional dashboard for you.
Go to Ads on Reels, and enable it by setting up your payment account ( ie, the account you will receive your payment from Facebook. It's not a naira account ) Automatic ads will be placed on your videos and it will start earning.
If you do not find the professional mode on your app, it means that your account is not qualified, it doesn't matter if you have 300 followers or 50k followers.
How to Turn on Professional Mode on Facebook Web
Here's how you can turn on professional mode:
Go to your Facebook profile.
Below your profile header, click or tap the menu button (…) on the right side.
Click or tap Turn on professional mode.
To confirm, click or tap Turn on and complete the flow.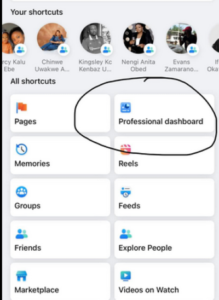 How to turn off professional mode
If you don't want to use professional mode on your profile, you can turn it off. If you turn off professional mode:
Your current friends, followers, and profile content won't change.

Your Who can follow me preference remains Public, but you can change it in Settings.

Your privacy settings won't change.

You can turn on professional mode anytime.
Related: Facebook Page Create – How to Create Facebook Page: Facebook business tool
After you turn off Facebook professional mode, you can expect the following changes:
Your existing content or audience insights won't be available anymore.

You'll lose access to enhanced safety features such as Moderation Assist.

You'll no longer be eligible for discovery opportunities on Facebook.

If you're eligible for monetization, you'll receive pending payouts or bonuses, but future bonuses/payouts will be paused.
Here's how to turn off professional mode:
Go to your profile on Facebook.
Below your profile header, click or tap the menu button (…).
Click or tap Turn off professional mode and complete the steps.
How to Check Facebook Professional Mode Earnings
This is where you check your Facebook account earnings.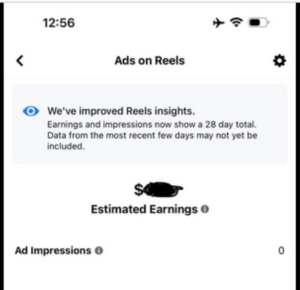 NOTE:  You can qualify for professional mode but are not eligible to start earning. Either way, do not give up, Facebook is large enough to pay as many people. You will not know the next step to take until you are eligible.
Keep your personal profile clean, and reduce the use of insulting words or profanities, they are very particular about that.